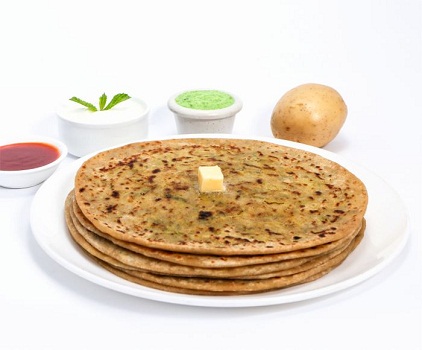 After a break of 10-12 hours, the meal at first we eat is called breakfast. It is known as a fuel to drive ourselves in performing day-to-day tasks. Good quality breakfast is compulsory for a smooth and comfortable day out. Proper planning of breakfast turns essential if we are ought to feel energized and to have a fulfilled appetite! In the meantime, one does not have to overdo later if he has a contented mealtime in the morning.

Breakfast generally comprises eggs, porridge, and sausage. However, it is a personal choice of the people what the people add to their breakfast. The location plays a significant role in the selection of the items. Indian culture has a rich diversity-related to food and Indian food is known for exotic spices and delicate herbs. Due to its distinctive features, a country is a birthplace for a large number of food items. In India, parathas are dish up at the point of breakfast.

If you belong to a Punjabi family, no doubt, aloo paratha is surely your favorite meal. Well, now you can eat it without any guilt in your mind. There are several reasons why people prefer to eat Paratha during weekends.

• The mixture of wheat bran and whole wheat flour is simply perfect for people suffering from diabetics since it is having a low glycemic index, sugar levels rise steadily and slow. It would be better to add in maida or flour bread loaded with sugar and salt.

• It would be better not to fry with ghee and oil, but it would be better to roast them on a Tawa and if cooked, it would be better to use the clarified butter.

• The addition of homemade curd and Makhan is the right source of natural probiotics and proteins. It is just perfect for skin, gut health hormones, and the brain. It is even helpful in weight loss.

• Potatoes, whole wheat, curd from protein and fiber make it a perfect meal.
• Eating aloo paratha is a good choice as compared to eating 2/3 slices of pizza. This option is also called food heritage and our grandmothers loved to cook them.

With some changes, you can make them perfect for health and eat them without any fear or guilt.

This is a perfect meal that helps in uplifting our mood as well as senses. Moreover, it also brings great calming effects on the brain. Indian breakfast especially parathas are not so difficult to make but quite healthy, simple, and delicious. Indian breakfasts are having special benefits in different parts of the world, particularly due to their great flexibility. So, it is not a good choice to skip breakfasts and try something new for a transform. Not just will you be getting the required energy to maintain your day, but you will also take pleasure in spicy meals that are Indian. Now, you can add a delicious paratha to your breakfast.
This entry was posted on June, 22, 2021 at 09 : 49 am and is filed under Aloo Paratha. You can follow any responses to this entry through the RSS 2.0 feed. You can leave a response from your own site.