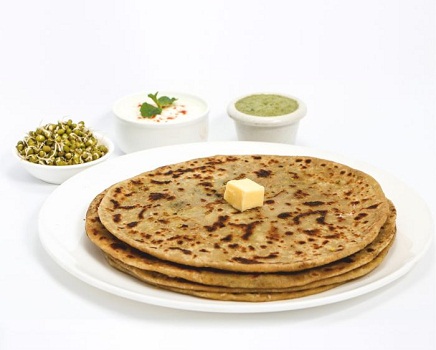 Are you a great paratha lover but also concerned about its fallout on your body?You have some good news now. In today's contemporary busy world we all prefer to be super fit and active without compromising our regular sustenance. If we can make some little changes in our classic recipes then it would remain tasty as well as healthy.
Now, paratha is a kind of food that we all love to consume. But if we add some sprout to this classic Indian dish as a stuffing or in the dough, then it would be a super-duper hit for your health. Sprout paratha is a food that is a thriving combination of taste and health. Below are the points on the health benefits of sprout paratha.
Suitable For the Diet Controllers
Sprouts are rich in fibre that absorbs extra fat from your body and prevent you from having high-calorie snacks.If you are on a diet then you must need to be aware of the sprout paratha importers who can provide your favourite health-conscious paratha at your doorstep.
Boosts Digestion Process
Sprout paratha also boosts our digestion system by converting starch into glucose and fructose, protein into amino acid, saturated fat into simple fatty acids. Sprouts contain some special enzymes that promote digestion by destroying the seeds' natural enzymes that obstruct the digestion process.
Increases Vitamin Quotient
Various study proves that sprouts are richer in Vitamin A, Vitamin K, Vitamin C, and Vitamin B-complex than normal seeds. For example, the wheat sprout is three times more likely to have Vitamin E than normal wheat.Sprouted lentils also retain a handsome amount of Vitamin C.
Add Protein Value to Your Diet
Sprout paratha add an efficient amount of protein to your daily diet. Sprouted moong contains 7 gm more protein than unsprouted moong. There are many inactive enzymes in a grain that are activated after sprouting and boosts the digestion and absorption process.
Aids Fighting Disease
There are plenty of grouped minerals like iron, potassium and calcium in sprouts which are easily absorbed into your body and give your body strength to fight various diseases. Sprouting broccoli seeds, alfalfa seeds and brussels sprouts enhances the quantity of plant chemicals aka phytochemicals, antioxidants and bioflavonoids that impedes lifestyle ailments like cancer and diabetes.So if you reside in Maharashtra, do prepare an analys is about the sprout paratha supplier in Pune.
Easy To Use In Any Recipe
Sprouts are undoubtedly very user friendly. You can use them in any of your recipes like parathas, soups, salads and what's not.When a seed sprouts, it tastes sweeter, crisper and tastier.
So we have discussed all the significant and must-know health benefits of sprouts. Sprouts are healthy, easy to grow, reasonable, adaptable and easy to regulate. You can have them in any of your preferable forms there by sprout paratha may rank top of that list. So you should obtain all the information regarding sprout paratha manufacturer in Pune if you reside around Maharashtra so that you can taste the delicious dish without making any such physical effort.