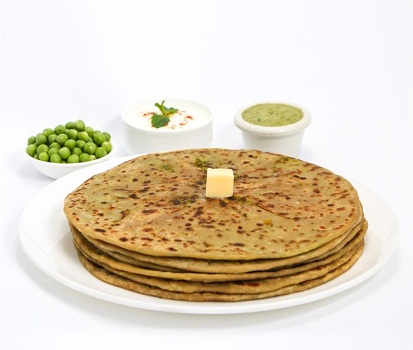 We all know that paratha is one of the most preferred breakfast dishes being consumed all across the world, especially by the Indians. Whether it is aloo paratha or mutter ka paratha, one cannot resist themselves consuming it.

Winter is the most favorite season for almost all because one can get an abundance of vegetables to gulp on. One among them is none other than the green peas. However, who doesn't love to savor this green and high fibrous vegetable in the form of green peas paratha? However, it is a true breakfast recipe for almost all North Indians. It is scrumptious flat stuffed bread that is being served hot with lots of butter on it along with curd and pickles.

Nutritional Benefits of Green Peas paratha

• Known to be a good source of protein, green peas paratha is being loaded with good quality protein, As it has been determined that a 100 gm of green peas contain near about 5 gms of protein as well as rich dietary fiber. Hence, consuming it makes the breakfast filling as well as highly nutritious.

• One green peas paratha comprises of 164 calories. It constitutes nearly 28 calories of protein, 99 calories of carbohydrate and the rest amount is fat i.e. nearly 41 calories. It is said that the consumption of one green peas paratha can supply nearly 8% of the total daily calorie requirement to an adult diet of 2,000 calories.

• As per the green peas paratha manufacturers in Pune, it is high in phosphorous quantity which helps in building bone health when worked in conjunction with calcium.

• It is rich in fiber that prevents the risk of any heart diseases and prevents diabetes

Value per paratha

• Protein 6.9 g
• Energy 164 cal
• Fat 4.6 g
• Carbohydrates 24.8 g
• Fiber 6.4 g
• Vitamin A 60.6 mcg
• Thiamine 0.1 mg
• Riboflavin 0.1 mg
• Niacin 1.2 mg
• Vitamin C 3.2 mg
• Folic Acid 26.6 mcg
• Calcium 27.8 mg
• Magnesium 62.5 mg
• Potassium 212.2 mg
• Iron 2 mg
• Sodium 395.8 mg

Benefits of consuming green peas paratha

Daily intake of this paratha can help in

• Maintaining a healthy lifestyle
• Losing weight
• Prevents diabetes
• Helps from heart problems
• Reduce weight gain
• Healthy source for kids

Ingredients required making paratha

Listed down are some of the major ingredients being required to make the stuffed green peas paratha

• Spices: Garlic. Ginger, green chillies, mint leaves, green coriander leaves, ajwain, and cumin seeds.
• Spice powders: Turmeric powder, salt, dry mango powder, garam masala powder
• For the dough: Whole wheat flour, salt, water.

Pune is a leading manufacturer of green peas paratha. All these parathas are being prepared using fine quality of ingredients in order to ensure that the taste remains intact and similar to those as prepared the fresh ones. Green peas paratha supplier in Pune ensures that these parathas are ready to made and require little effort for the preparation. One just needs to take out the paratha and heat it on the Tawa using some oil or butter. And here it is, the paratha is all ready to consume.

Thus, green peas paratha is really a healthy yet delicious option to consume. With several green peas paratha importers in Pune, one must need to select the most authenticated one.