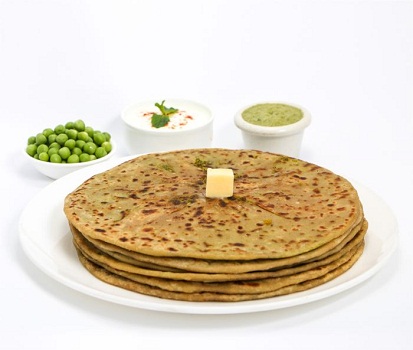 In India, breakfast comprises the apex meal that boosts the energy for the whole long day. To meet the daily nutritional needs, a power-packed breakfast is a must. A wide range of healthy breakfast options in India include idli, poha, upma, stuffed paratha, dosa, dalia, sandwiches, and much more. But out of these, green peas paratha is one savoury endeared by all. Although having its origin in North India, green peas parathas are highly relished by the paratha lovers, all over the world.
These are made by using fresh boiled green peas, spices, whole wheat flour, and vegetable oil. The blend of such ingredients makes the frozen green peas paratha a perfect source of several vital nutrients. For the Indians residing abroad, who are not having an access of scrumptious home-cooked food, rely on green peas paratha manufacturers in Pune in order to get their tastebuds pleased. These can be served with curd, pickle, salad and curries for a wholesome meal.
Having green peas paratha as breakfast can deliver several health benefits. Some of them are as follows-
• Being prepared using the whole wheat flour, these parathas are highly rich in fible and proteins. So, if you are looking for weightloss or your are diabetic, you can easily opt for the green peas paratha as a breakfast without any guilt.
• The green peas parathas are packed with a bundle of nutrients including, calcium, potassium, sodium, folic acid, magnesium, Thiamine, Vitamin A, and Vitamin C. The presence of these vital nutrients helps in keeping the body healthy and keeps a number of diseases at bay
• Having a delectable savoury as the first meal of the day, keeps the mood uplifted for the entire day. Made with authentic spices with the aid of sophisticated methods, these frozen parathas are surely a treat for any Indian food lover.
Why is frozen green peas paratha so popular in India?
Easy to get

Affordable for everyone

Ingredients are healthy

Can be served with different types of chutneys and other taste-enhancing food items like butter or ghee

Can be preserved for a few days

Easily available almost every part in India

Provides energy instantly

Ready to serve a meal
There are several aspects that the Green peas paratha suppliers in Pune should take into account in order to keep their clients satisfied. Some of them are-
• They should be backed by a team of quality controllers, which can examine the food quality on various norms so as to ensure the absence of adulteration.
• The Green peas paratha importers should make sure that the offered food is made under the utmost hygienic conditions and is in line with the standards laid down by the industry.
• They should be backed by a whopping warehousing facility to stock up the parathas at the required temperature and meet the growing market needs without any hassle.
• Moreover, the suppliers should offer authentic products at cost-effective rates.
Thus, gorge on the delectable green peas paratha and say yes to a good health.