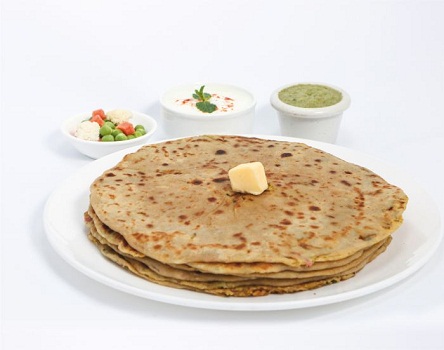 An article published on a renowned newspaper considers idli as one of the fittest breakfast food one should have. Well, though there is no doubt that this fermented, steamed, and easy to digest food is healthy. But Indians like to dive to into everyone's favorite – parathas. But why do people doubt about their health benefits? Let me tell you that parathas can be prepared in a healthy way, especially the mix veg parathas. This article aims to discuss the nutritional factors of mix veg parathas.
Calorie content of mix veg parathas:
As per the mix veg paratha suppliers in Pune, one standard sized mix veg paratha can offer around 150 calories of energy. Out of these, 16 cal come from proteins, 37 cal come from fat, and 102 cal comes from carbohydrates. So, consuming one or two mix veg parathas (according to your body consumption) can keep you full for many hours. The mix veg parathas supplier organizations claim that they prepare parathas in the healthiest manner and thus a single mix veg paratha prepared by them can fulfill around 8% of the daily requirement for calories of a healthy adult person whose daily calorie requirement is around 2000 calories.
Why mix veg parathas are so popular?
You can hardly get someone who does not like to munch on a mix veg paratha. This is quite a popular dish in all parts of the country.this is major because of the goodness of vegetables that comes packed into the parathas. The delicious stuffing made of boiled vegetables like carrots, cabbages, cauliflowers, potatoes, paneer, peas, etc. and daily kitchen spices makes the parathas really gratifying.
How to prepare delicious soft mix veg parathas?
Well, though the use of plain flour can make any preparation tasty it is not healthy to consume it on a daily basis. The use of whole wheat flour is equally efficient to balance the taste of parathas and it is healthy too for regular consumption as it gets easily digested. The key part about making mix veg parathas is to make a soft dough with it which can be easily rolled without letting the filling out. The mix should be properly prepared otherwise the paratha can be too tough or chewy.
Health factors for mix veg parathas:
Well, there are my secrets to making oil fried mix veg parathas in a healthy way and you will get to know them in a while. Before that, you should understand that whole wheat mix vegetable parathas are not harmful to your health at all! And, you can certainly contact the mix veg paratha manufacturers in Pune for your daily orders.
• Whole wheat flour – Even diabetics are recommended to consume whole wheat flour as it does not increase blood sugar levels. Whole wheat flour is rich in phosphorus, and you all know that it is an essential mineral that works with calcium in the body to make bones stronger. It has vitamin B9 that helps in increasing red blood cells.
• Mixed vegetables – Generally, the cauliflowers, cabbages, carrots, French beans, and green peas are used in making the filling of mix veg parathas and mixed vegetables offer a lot of nutrients to the preparation. And, the paratha can achieve the health benefits of each of these vegetables. For example, cauliflower is low in carbs and antioxidants, thus lowers blood sugar levels. Cabbage has low-calorie contents and offers to relieve in constipation. Green peas have protein and insoluble fiber, thus good for weight loss.
Mix veg paratha importers make sure that their products are fried in less oil and suggested to consume with raita for better digestion.