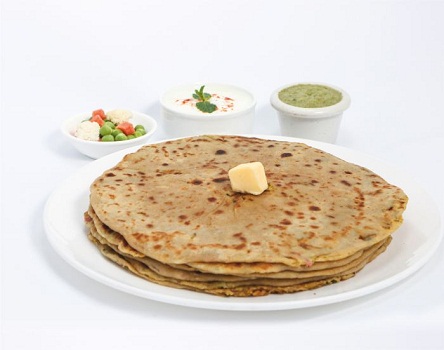 Paratha is one of the most popular dishes in India. It was first discovered in ancient Punjab, which is a region in India. However, it soon became quite popular all across South Asia, and today it is available in almost every region of South Asia. Different varieties of parathas are available in India. Mix veg paratha is one of the healthy feasts to have with the goodness of multiple vegetables together. It is prepared with whole-wheat flour and varieties of vegetables mixed along with Indian spices.
How to enjoy mix paratha frozen the best?
Usually, a paratha is made fresh at home by the kitchen lovers and homemaker. But these days it is available in frozen form as well. It can be eaten simply with a dash of butter spread on top after heating it either on a flat pan or in a microwave. However, it is best served along with pickles and yogurt, apart from thick spicy gravy of onion and garlic.
The paratha has traveled to several places, and this has led to the evolution of several variations.
Qualities of mix veg paratha as frozen
Mix Veg Paratha manufacturers in Pune make them loaded with nutrient-rich vegetables Potato, Cauliflower, Carrot, French Beans and Sweet Corn. All of these vegetables are a delightful feast to the veggies lovers. Their recipe of Mix Veg Paratha is made to ensure the authentic Indian flavored Paratha and health benefits.
Benefits of frozen food
Frozen foods like parathas, vegetables, and gravies can be a convenient and affordable way to incorporate healthful foods into your daily diet. You can get from every food group, including whole grains, fruits, vegetables, and dairy products as well as cooked food. In addition to the benefit of time-saving, frozen foods can be of great benefit for individuals with limited space in the kitchen.
Students living as tenants in hostels can take advantage of homely food anytime.
Not only the frozen foods are more affordable in price with the mix veg paratha importers, but they also can aid in reducing food waste as well.
Why is frozen mix veg paratha so popular in India?
• Easy to get
• Affordable for everyone
• Ingredients are healthy
• Can be served with different types of chutneys and other taste-enhancing food items like butter or ghee
• Can be preserved for a few days
• Easily available almost every part in India
• Provides energy instantly
• Ready to serve a meal
How to choose a good Mix veg Paratha supplier in Pune?
The following are the qualities to consider when you select a supplier of frozen parathas in Pune, India.
• The manufacturer should hold credentials in manufacturing, exporting and supplying premium Frozen Mix veg Paratha.
• Mix Veg Paratha must be prepared under hygienic conditions and stored in a proper warehouse to keep them preserved.
• The Frozen mix veg parathas must have the authentic taste, as illustrated by the customer reviews.
• It should be supplied to the Clients at market-leading prices.
• The manufacturer should be a mix veg paratha importer also to ensure quality.