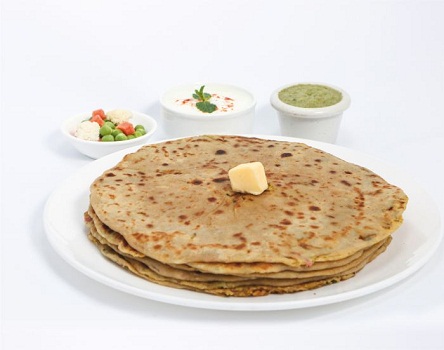 A paratha is a flatbread type of Indian food. Mix veg Paratha manufacturers in Pune supply packed parathas in Sri Lanka, Pakistan, Maldives, Nepal, Myanmar, and Bangladesh. Partha means layers of cooked dough. Paratha is rich in carbohydrates, essential minerals, fat, and protein.

Process of Making Healthy Parathas

A paratha can be healthy if you stuff it with healthy ingredients. These parathas are rich in vitamins, minerals, and protein. Nutritionists always recommend consuming healthy parathas. Some unique tips for making health parathas are as follows-

For healthy paratha making, you can use wheat flour, carom seed, cumin seeds, and dried mango powder to make the dough. You can add grated cheese, chopped tomatoes, carrots, boiled peas, sweet corn, chopped green chillies, and coriander leaves for the filling.

Combine the wheat flour, dried mango powder, cumin seeds, carom seeds, and oil in a large bowl. Make smooth and soft dough by using a little bit of water.

Cover the dough for 15 minutes. In another bowl, combine all the ingredients for the filling. Pour the elements inside the dough and seal the edges. You can use olive oil or ghee to fry the parathas.

Mixed Vegetable Parathas Recipes

For the healthy vegetable parathas, you can use medium-sized chopped onions, ginger garlic paste, finely chopped French beans, half cup peas, chopped cabbage and carrot, finely chopped coriander leaves, red chilli powder, turmeric powder, coriander powder, cumin powder, and garam masala.

In a bowl, mix wheat flour, salt, and oil to make a soft dough. You can boil the onions, peas, cabbage, French beans, and carrots in hot water. After that, add the other ingredients of the stuffing to the boiled vegetables. Make a small ball with the dough and roll each piece into a small roti. Cook the parathas on a pan. Mix veg paratha supplier in Pune provides homemade parathas at your doorstep.

Tips to Make Healthy Parathas

-If anyone wants to make healthy parathas, they should follow the following factors-
-It is essential to add suji with paratha dough for making it healthy.
-You can use whole wheat flour instead of refined flour to make the paratha dough.
-You can add milk instead of water to make the paratha dough soft. This paratha stays fresh for a long time. Even milk has a great nutritious value that is good for health.
-Try to choose protein-rich paratha dough such as paneer, chicken, eggs, and tofu. It is suitable for a child's health.
-If you add mixed vegetables in the parathas stuffing, it will be healthy. Many children do not prefer to eat vegetables. If you prepare paratha in this way, your child may enjoy the dish.

Health Benefits of Sprouts and Paneer Parathas

For making sprout and paneer parathas, you need 50g wheat flour, 30g yoghurt, 35g paneer, 30g green sprouted, 20g chopped onions, carom seeds, curry leaves, chopped green chillies, salt to taste, and 1tbsp oil. Mix veg paratha importer offers unique paratha mix.

In a bowl, add wheat flour, water, and yoghurt to make a soft dough. Keep the dough aside for an hour. Later on, make small roti from the dough. After that, heat the pan and fry carom seeds and curry leaves. Add chopped green chillies and onions for frying. Then, add scrambled paneer, sprouts, and salt.

Cook the mixture for few minutes and let it cool. Pour the paneer stuffed into the roti and seal the edge—Fry the parathas until golden brown.