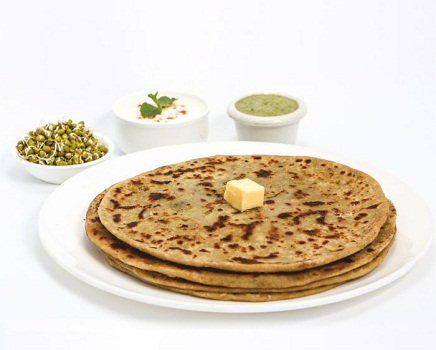 Protein-rich healthy parathas filled with green sprouts is the best way to start a day. We all know that a heavy and healthy breakfast is essential to kick start a day. And, hence, when delicious sprouts parathas are served with curd or pickle, it's just irresistible for the taste buds!
There is a great dilemma among eating parathas. Actually, people are more health-conscious these days. They neither want to put on an extra weight nor can live without munching on the tasty soft hot-served parathas! So, what to do? The great news is that the sprout paratha suppliers in Pune are doing a fabulous job by providing tasty and healthy food products for their clients.
There are some tricks that the sprout paratha manufacturers should use to make the parathas healthy.
1. Use whole wheat flour to prepare the dough as it is rich in fiber and you all know that fiber is an active compound to lower cholesterol levels and to offer relieve in constipation.
2. Also, whole wheat flour is low in calories. Above all, if you fry those atta parathas by brushing oil on them, these will surely be the low-calorie parathas for your breakfast.
3. Whole wheat flour contains most of the essential minerals such as iron, zinc, phosphorus, and magnesium which are helpful for making better metabolic rates.
And, if you have not forgotten, we were talking about sprouts parathas, and the presence of sprouts makes the parathas eatable for even heart patients and diabetics if not fried with excess oil or ghee.
Let's talk about the nutrition facts of sprouts.
Sprouts are very low in calories. They are a great source of nutrients and other essential plant compounds. Normally, it is the technique of sprouting that enhances the level of nutrition and makes the sprouts rich in folate, protein, phosphorus, magnesium, manganese, and vitamins C and K.
According to various scientific research results, the process of sprouting increases the protein content and amount of amino acids. Added to that, proteins in sprouts are easy to digest by everyone.
Sprouts contain a good amount of antioxidants and various other plant compounds. Studies also proved that food prepared with sprouts also become nutritious. Hence, you can surely contact the sprout parathas importer companies to order a few for a healthy breakfast.
In case, if you do not want to order your sprout parathas from outside stores, you can simply prepare some delicious parathas at home kitchen. Do not know how to stuff sprouts inside the parathas? Just make the atta/ wheat flour dough ready, knead it well. Grind sprouts, ginger, and chilies well to make a paste of it. Take a frying pan and add oil and cumin seeds to it. Now add the ground paste and add your desirable spices and salt to it. Mix them all until they are cooked well, and your filling is ready. Now just use a similar procedure to make aloo parathas. Roll the parathas with fillings, and cook them on a tawa with oil.
Though sprout parathas manufacturer companies in Pune use the latest machinery for producing food grade quality sprouts parathas, but obviously if you want to prepare a few at home, it's COMPLETELY OK!