Aloo Paratha Is A Healthy Meal Option - Here Are The Reasons Why!
Posted by Admin on July, 14, 2020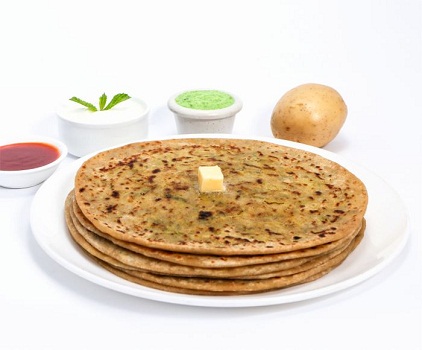 Are you a real Indian cuisine lover? Then Aloo paratha must be your first item to have. If not, then you are indeed not a fan of Indian food. This is I am saying for some of the prominent reasons. A maximum number of people like aloo paratha in India. This oh-so-yummy meal offered by Aloo Paratha Manufacturer In Pune is a favourite of kids and even grownups.

Why is aloo paratha so popular in India?
• Easy to made
• Affordable for everyone
• Ingredients are readily available
• Can be served with different types of chutneys and other taste-enhancing food items like butter or ghee
• Can be preserved for a few days
• Easily accessible almost every part in India
• Provides energy instantly
• Ready to serve a meal


Why is it a healthy meal for everyone?

It is made of healthy wheat flour.
Being made of wheat flour that is rich in protein and healthy fibre, aloo paratha is way better than processed bread made of white flour or maida with add on sugar and salt.

It is roasted, not fried.
Aloo paratha is dry roasted on a pan and not fried. Hence, don't overthink of extra calories intake. Some people do shallow fry it in oil. But if cooked dry and then applied ghee on it, nothing can beat its taste and health it departs.

It is served with extra protein.
Indian culture is to make curd at home that is full of natural probiotics being a potent source of protein. And aloo parathas make the best combination with chilled fresh curd. Also, white butter is a good source of energy. Then why not have it in the morning when you have to do much exertion the whole day.

It is excellent for your health.
When served with curd and clarified butter, then it becomes a boon to skin problems. Also, people have experienced gut health and hormones after consuming aloo parathas.

It serves as a complete balanced meal.
Carbs from potatoes, protein from curd, energy and fibre from whole wheat flour makes it a completely balanced meal.

It is easy to make and serve.
It has been a part of our food heritage which our grandmothers love to make and serve. Also, it is easy to make and consumes very less time as compared to other dishes. Hence, it has become a favourite meal of people in every nook and corner of India.

It is now available in the ready-to-serve pack.

With the advent of technology and shortage of time, people have searched a quick way to have their favourite dish anytime and anywhere. The ready to eat aloo parathas by Aloo Paratha Supplier in Pune are getting popular day by day. With all the goodness of a freshly made parathas, these prepared to eat aloo parathas are readily available everywhere in India.

Buy aloo parathas online:
Some renowned Aloo Paratha Importers provide aloo parathas online. Here is how they deliver quality food.
• quality experts handpick the ingredients
• ensure 100% pure Indian flavoured Aloo Paratha
• equipped with food-grade quality latest machinery for producing top-notch quality delicious Aloo Paratha
• frozen products hold nutritional values as stored at -18°C/0°F or below
• priority is quality and cleanliness
• fast and hygienic home delivery
This entry was posted on July, 14, 2020 at 10 : 31 am and is filed under Aloo Paratha. You can follow any responses to this entry through the RSS 2.0 feed. You can leave a response from your own site.