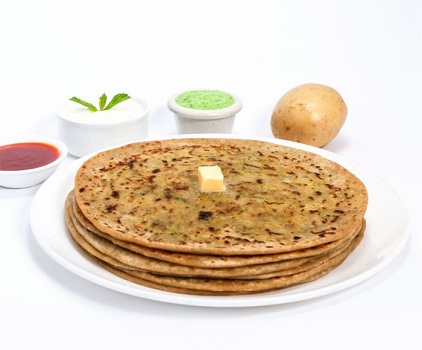 Aloo paratha…yummy! Every Indian like to munch it more and more. But yes, if you neither want to gain weights nor live without munching on the parathas, then you need to find out some healthiest way to have those. Healthy aloo parathas suppliers in Pune are doing great business today targeting the cravings of their clients.
You can eat whole wheat flour parathas in spite of maida made parathas. Why so?
1. Whole wheat flour makes a healthy addition which is rich in fibre. Consumption of fibre is good for health as it lowers bad cholesterol levels and also relieves in constipation.
2. Whole wheat flour makes a low-calorie diet. If you make your parathas with less ghee or oil (brushing of oil), then it can make a healthy low-calorie diet.
3. Rich in essential minerals including zinc, iron, magnesium, and phosphorus which make better metabolic rates.
And, to have a total protein diet with parathas you should take them with sprouts, dals, etc. In fact, heart patients and diabetics too can have parathas made with less oil or ghee.
The nutrition fact of aloo parathas:
One standard aloo paratha made with whole wheat flour offers 154 calories. Among them, carbohydrates offer 90 calories, proteins offer 13 calories, and the rest comes from fats.
If you are into some special diet programs you may be asked to leave those calories on a daily basis. So, is there really no space for parathas? Well, you can have some decoded paratha recipes that are efficient to satisfy your cravings for parathas as well as support your weight loss regime too.
What to do?
As per the aloo paratha manufacturers in Pune, the parathas contain protein and fibre which are good for weight loss. So, now you know which factors are good and bad for weight loss right? The harmful factors for parathas are carbs and fats.
Let's make some low carb and fat and high fibre and protein aloo parathas. In fact, aloo parathas importer companies take a good look at that.
Weight loss aloo parathas!
If you want to cut the carbohydrates, you can use almond or wheat flours instead of whole wheat flour. This way you will be able to cut those carbs by less than 50%. Now to increase the protein and fibre content you can add some spinach to the flour batter at the kneading time. For a better result, you can take flour and spinach at 50:50 ratios. So, now your aloo parathas become aloo-spinach parathas! Decreasing the fat amount from your paratha is very simple; just use less oil or ghee on it. Trust me; it will taste no less than the regular whole wheat aloo parathas.
Benefits!!
If you are adding spinach, you will be required less flour for making the dough. The preparation will cut the carbohydrates a lot more than you can imagine. And it will be higher in fibre and proteins. If you are following a keto diet, then limiting carbs intake is a must for you. So, you should eat soy flour and spinach made aloo parathas. And, you can add extra ghee into it, as fats are allowed in your diet!! Congratulations!
Any aloo parathas importer is able to provide good and healthy parathas to their clients.