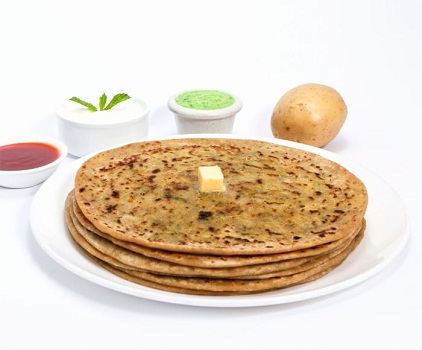 A striking feature of India cuisine is that it holds quite a few recipes that can act as both breakfast/snacks, as well as the main course meal. One of such recipes is Aloo paratha. This dish has been a chunk of the Indian kitchens for an equally long period. Also, it has been playing the part of Sunday morning special breakfast with great comfort. It is preferably a very popular breakfast recipe and is principally common in North India. The paratha is best served along with curd, varieties of chutneys and pickles. Aloo Paratha Manufacturer in Pune is fulfilling the rising demands of ready to eat aloo paratha online.

Nutritional Value of Aloo Paratha

One also paratha is meant to give 177 calories out of which carbohydrates comprise of 90 calories, 13 calories account for protein, and remaining 74 calories as fat. As per dieticians, aloo paratha provides 9% of the total calories intake that is around 2000 Calories.

As it can be made easily with some healthy techniques like baked paratha people prefer it to have it in breakfast. But for people who have time shortage to make aloo parathas for all can enjoy the benefit of eating ready to eat packaged aloo paratha. With the arrival of technology and lack of time, people have hunted and explored a quick way to have their favourite dish anytime and anywhere. They prefer having ready to eat aloo paratha.

Reasons to have ready to eat aloo paratha

• It is made of healthy wheat flour.
It is made of wheat flour rich in protein and healthy fibre. It is commendably way better than processed bread made of white flour.

• It is roasted, not fried.
Aloo paratha available as ready to eat packaging is dry roasted on a pan and not fried. Hence, don't take tension of putting loads of calories intake. Some do shallow fry in oil. But it tastes great it roasted dry and apply ghee on it, nothing can beat its taste and health it departs.

• It is served with extra protein.
Curd if packed with natural probiotics. As it is a potent source of protein when served with aloo parathas it makes the best combination. Enjoy fresh and chilled curd along with it. Also, white butter is better for energy. So it's good to have them in the morning when you have to do much exertion the whole day.

• It is exceptional for your health.
With curd and clarified butter, Aloo paratha serves as a boon to skin problems. Also, people have faced good gut health and hormones after consuming aloo parathas.

It is now easily available online in the ready-to-serve pack by Aloo Paratha supplier In Pune.

The ready to eat aloo parathas by Aloo Paratha Supplier in Pune are highly preferred for the quality supplied. The goodness of freshly made parathas is imparted to these prepared to eat aloo parathas are easily available everywhere in India.
They supply them
• In hygienic packaging
• Timely at your doorstep
• Online with convenience to place order and pay
• Affordable price
• With fresh and tested quality products
This entry was posted on December, 26, 2020 at 11 : 32 am and is filed under Aloo Paratha. You can follow any responses to this entry through the RSS 2.0 feed. You can leave a response from your own site.